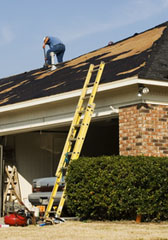 Tampa Roofing
At Tampa Roofing Contractor, we're dedicated to listing all the Tampa FL Roofing Services you could need. From Tampa Roof Repair to Tampa Roof Cleaning we've got the Tampa Roofing Contractor you'll need for your next Tampa Roofing Service.
Below you'll find some of the best Roofing Contractors and Roofing Services that Tampa FL has to offer. Rest assured that your Tampa home's roof is in good hands with a professional, reliable Tampa Roofing Contractor.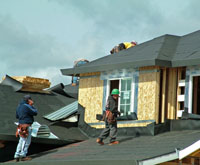 Atlantic Roofing Services
(813) 935-8500
Tampa FL
Brill Roofing
(813) 917-4300
Tampa FL
Cole Roofing of Tampa Bay
(813) 917-3558
Tampa FL
Magnum Roofing
(813) 224-9087
Tampa FL
Roof Pro of Tampa Bay
(813) 643-7663
Tampa FL
Roofing – The Right Protection Overhead
There's nothing more fundamental to your survival than reliable shelter. In today's economic climate reliability, cost-effectiveness, and energy efficiency are all factors to take into account in making a choice of roofing products that will work for you.
Unfortunately, there are no "one-size-fits-all" solutions. Every home, region, and household has different needs to consider. Every available material has its benefits and its drawbacks.
While this can make decision-making more complicated than ever, it also means that customization has never been more in-reach for the average consumer. There's really no reason to settle for a material that doesn't really work for your situation. Carefully examining the more popular choices in roofing materials can help you narrow down a solution that's right for you.
Asphalt Shingles
The vast majority of roofs still use asphalt shingles and it's easy to see why. They're both highly versatile and economical, coming in a variety of styles and looks to fit almost any property. Two types of asphalt shingles dominate: fiberglass and organic. Fiberglass shingles are much lighter and tend to last longer. Organic shingles, however, stand up to colder weather better, being able to withstand the expansion and contraction of freeze and thaw.
Asphalt is among the easiest roofs to install: ideal roofing solution on a low budget.
Exercise caution in choosing the type of shingle you buy, making sure that it meets industry standards. Shingles that comply with industry standards are marked with ASTM D-225 or ASTM D-3462.
Going for the lowest price on shingles may mean a roof that fails well before the warranty expires. Many consumers report that even when warranties are paid out, the costs aren't entirely covered when all is said and done.
Shingles now come in a variety of looks and colors, often imitating more expensive materials very convincingly. When it comes to performance against hurricanes and other high-wind conditions, shingle roofs tend to suffer considerable damage.
Metal Roofing
Incredible strides have been made in metal roofing technology. It's not just for commercial buildings anymore. Metal is very sturdy and can actually pay for itself over time compared with other products. If looks are an issue, there's no reason not to choose metal. It can be convincingly shaped and textured to look like wooden shingles, ceramic tile, and more. Many other styles are easily achievable. Costs, however, can run high and specialized training and equipment are often required for installation.
The Benefits of Metal
Metal is extremely durable. Compared with other products, metal roofing can pay for itself over time since it often lasts twice as long or more. If you're planning to live in your home any less than a few years, it may not be the solution for you.
Metal looks great, though the better the look you're going for, the more the price tends to go up. It does, however, provide a way to have your proverbial cake and eat it too, giving your property the look you want and the durability you need.
Extremely energy efficient, metal can be made to reflect the sun's rays in warm climates, potentially reducing your cooling bills dramatically over time.
Surprisingly lightweight, metal can be a great option for new and custom homes. It's much less demanding on the structure of the home, cutting building costs considerably. Metal is increasingly favored by architects for this reason.
While metal roofs usually require professional installation, this goes relatively quickly since most metal roofing comes in large 4 foot expanses that install relatively quickly, helping to mitigate costs.
The Drawbacksof Metal
Metal can be relatively expensive, ranging in price from about $1 - $40 per square foot. This makes metal a relatively unattractive options for those on a small budget and do-it-yourselfers.
Some may like the ambiance of rain on the rooftop, but others find it a loud and annoying drumbeat on the roof. This can especially be true for those who own a metal roof and live in areas with high annual rainfall. Ask your contractor about options to muffle the sound between the roof and the interior of the house. Having to do so, unfortunately tends to drive up the cost even further.
Clay Tile Roofing
Clay tiles have unparalleled aesthetic value, bringing almost any home a variety of looks, from the grandeur of Japanese pagodas, to stately dignity of Spanish missions. These roofs are used widely across many cultures through history and continue to be popular today. They're incredible durable and long-lasting as well as attractive.
Material and design options abound, going well beyond the terracotta of yesterday. Moderately priced, this is a great option for many, though the brittle nature of these tiles makes do-it-yourself installation risky.
Clay tiles are also inherently insular, making them ideal for hot climates.
The major drawback of clay tiles is their immense weight. Even with modern materials, weight is a huge factor, requiring extra architectural support. These roofs generally stand up to hurricane conditions exceptionally well, standing up to high winds because of the immense weight.
Finding A Contracot
The oldest and most reliable way to find a good roofer is to ask friends and neighbors for referrals. Not only do you want a well qualified roofing contractor, you should also verify that the roofing contractor has all the necessary licenses, permits and insurance. The National Roofing Contractor's Association also has a referral hotline. Just call 800-USA-ROOF (800-872-7663). Be sure to factor in freight and labor when collecting bids.